Description
Non Contact Body Temperature Measurement
Quickest Deployment
Voice Alarm
Real Time Statistics
The Uniview OTC-513 Automatic Temperature Detection System can take Non-Contact Body Temperature Readings of people entering a facility or business. This Uniview Heat Tracker Series, Temperature Detection Package delivers Real Time temperature detection and screen display. In addition, the OTC-513 can be deployed quickly and is the most affordable in our line up. If you are looking for a temperature detection solution for your facility, the UNV systems are available now.
Deployed in 10 Minutes or less!
Are you looking for a temperature screening solution for your business? Do you need a system that is easy to set up and deploy? Then the OTC-513 is the perfect choice! This unit can be assembled and reading temperatures in about 10 minutes (or less) straight from the box! This system is an all in one, Plug and Play, Non Contact Temperature Detection System that detect abnormal temperatures for help in limiting exposure to COVID-19, or other viruses.
EASY  –  ACCURATE  –  AFFORDABLE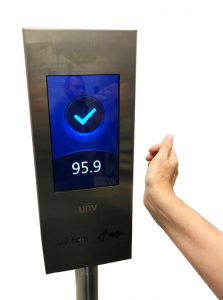 OTC-513 Automatic Temperature Detection System Key Features:
Temperature Readings
Temperature range: 30°-45°C (86°F to 113°F)
Read Temperature accuracy: 0.1°C
Read Temperature deviation: +/- 0.3°C
Measurement distance: 1cm-4cm
Application situation: Indoor (10°-40°C), no wind
Temperature Measurement
Real Time Alarm, Quick Detection of abnormal Temperatures
Non Contact Measurement from Wrist
High Accuracy Measurement
Real Time Display of Measured Temperatures
Stainless Steel Bracket
Adjustable Pole Mount
The OTC-513 is the easiest temperature screening system to deploy. The system detects in Celsius and Fahrenheit and provides a voice alarm for abnormal readings. If you need to deploy an affordable detection system quickly, this unit is the one for you.